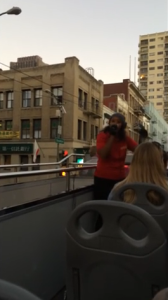 An examination to responses on social media to a tour guide's racist rant about San Francisco's Chinatown unfortunately uncovered more racism.
Baritone Pats reviewed comments left on the Facebook and Twitter accounts of popular Asian American blogger, Angry Asian Man.
While the comments are not a reflection of the site's editor Phil Yu, they may reflect on racism within the Asian American community.
The tour guide who made the remarks happened to be African American. "She speaks well for an ape," was the comment of one reader.
"Slap this bitch, if you see her," wrote another. I'm sorry, but calls for violence are never good even if meant in a figurative sense.
I'm with Pat, up to this point. But Baritone lost me half way through when he(I'm assuming Pat is a man based on a very small thumbnail image. Apologies if I am incorrect) went on to criticize those of us who have shared or written about this incident. In Pat's opinion, it didn't merit the attention its been getting because in the end, this tour guide, is just that , a tour guide. She's not in the position to affect change, so while offensive, its not big deal.
I hear what Pat is trying to say, but he forgets this tour guide is speaking to dozens of people everyday. What kinds of thoughts is she putting in people's minds? The incident has been dismissed by some as something an angry employee might do on her last day on the job (which reportedly it was). But do we really know its the first time she's done this? We really don't, do we? It's just the first time someone had the foresight to record it and post it on You Tube.
Then Pat criticizes those who call out the tour guide for not being more sensitive. Some of the comments left went like this: "As a 'woman of color', she should know better than to make racist remarks about Chinese people."
Just like Pat criticizes the Asian Americans who left bigoted comments about blacks, its only right we call the tour guide out for the same thing.
Other criticized the tour guide from preventing solidarity between blacks and Asians. Come on, Pat. That's exactly what she did–hurt a relationship between two communities who share much in common.
So what do you think about all this. Read Baritone Pats blog and leave your comments below.