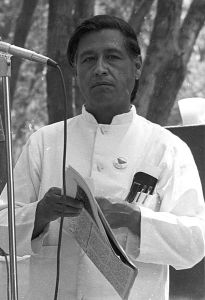 Asian Americans and Latinos have had a long history of working together.
From the Delano Grape Strike in 1965 to the present day with Asian Americans and Latinos joining together to fight for immigration reform, the collaboration between the Asian American and Latino communities has been a long one.
The NPR program Latino USA devoted an entire one hour program to this topic in collaboration with the Asian American magazine Hyphen.
Hyphen editor Abigail Licad talked with Latino USA host Maria Hinojosa.
Many Sikh men and Mexican women married in the early 20th century in the Central Valley, according to Licad. The Punjabi found themselves without women because Asian women were not allowed to come to America due to the Asian Exclusion Act. Many Mexican women found themselves displaced due to the Mexican Revolution. Sikh men and Mexican women had much in common and many fell in love and eventually married. The marriage also was a way around discriminatory laws which prevented Sikhs from owning land.
Cesar Chavez confronted much opposition when he proposed his Mexican American National Farm Workers Association join forces with the largely Filipino American Agricultural Workers Organizing Committee. Chavez confronted the opposition head on and the two groups ended up merging, forming the United Farm Workers Union.
In 1946 Gonzalo Mendez challenged laws that prevented Mexicans from enrolling into all white schools in Orange County. Among those supporting Mendez was the Japanese American Citizens League which submitted an amicus brief in the case. The Federal Court ruled that the segregation of Mexican American students was unconstitutional.
You can listen to the entire program below.