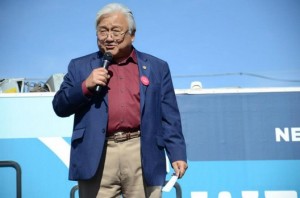 The contest between seven-time incumbent Rep Mike Honda (D-CA) and fellow Democrat and challenger Ro Khanna is expected to be a close one.
Honda has been a prominent figure in Asian American political circles during his 43 years in public service starting with his appointment to the San Jose Planning Commission in 1971. He is aligned closely with the Democratic leadership including President Obama and House Minority Leader Nancy Pelosi (D-SF).
Khanna who worked in the Obama administration is aligned with big Silicon Valley money. He's counting on the support of moderate Democrats and Republicans who might prefer him over the more progressive-leaning Honda. In California's open primary system, the two top candidates advance to the general election regardless of party. Thus you have two Democrats competing in the general election.
Khanna has tried to paint Honda as an old school Democrat and himself as one who's willing to reach across the political aisle for the good of the country. The Indian American also sees himself more in tune with the high tech culture of his district.
On the other hand, Honda has tied Khanna to the Tea Party and super-PAC money that has been used to distort the incumbent's record.
Political analyst Larry Gerston of San Jose State University describes the campaigning on both sides as ugly.
"It shows you the extent to which both campaigns feel desperate," Gerston said to the Mercury News. "This is going to be a nail-biter of an election. You don't take these huge risks that both sides have taken unless you feel like you have to go for broke."
The non-profit research organization Map Light broke down where each of the candidates is getting their campaign contributions in one of the most expensive House contests in the country. The 17th Congressional District is the only Asian American majority district in the continental United States.