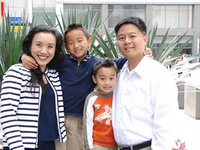 Eleven Asian Americans will serve in the next Congress beginning in 2015, the same as this year's record number.
The new names  are California State Senator Ted Lieu (pictured with family) who easily defeated Republican Elan Carr 58 – 42 percent and State Senator Mark Takei of Hawaii who won 52 -48 percent over Charles Djou.
Takei will replace Colleen Hanabusa who lost in the primary in a run for the US Senate.
Lieu declared victory last night telling the Daily Breeze "The Associated Press called the race; I'm going to assume they're correct," Lieu said. "Absentees always tend to trend more Republican and the fact we were ahead after the absentees was a great sign. Then every time they updated we extended the lead."
However, the Congressional Asian Pacific American Caucus possibly lost a member when Doug Ose defeated Rep Ami Bera 51 – 49  percent (Update: It is possible Bera could make up the deficit when all the mail-in ballots are counted).
All the other Asian American incumbents won.
Rep Bobby Scott (D-VA), Rep Tammy Duckworth (D-IL) , Rep Grace Meng (D-NY), Rep Doris Matsui (D-CA), and Rep Judy Chu all easily cruised to victory.
So did Rep Tulsi Gabbard  in Hawaii who coasted to victory with 79 percent of the vote.
Another incumbent declaring victory is Mark Takano (D-CA) and Rep Mike Honda has withstood a challenge from Ro Khanna.
US Senator Mazie Hirono (D-HI) was elected last year.
Losing his race Was Roy Cho who fought a competitive race in an unsuccessful bid to unseat Rep. Scott Garrett.
There are two additional AAPI members of Congress if you count the non-voting members from US Territories. They are Gregorio Kilili Camacho Sablan and newly elected Aumua Amata Radewagen. Non-voting delegates are elected to two year terms. While they do not have a vote in the full Congress, they are entitled to vote in committee.
(This post is corrected to update Bera-Ose & Honda-Khanna races and to include the non-voting delegates from US Territories).