Ro Khanna has conceded to soon to be eight-time incumbent Mike Honda in the continental United State's only Asian American majority district–California's District 17.
You can watch live feed from KNTV below.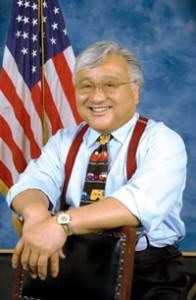 (Update: Rep Mike Honda has declared victory in the California District 17 race over Ro Khanna, reports Politico. Challenger Ro Khanna has not conceded saying there are still a lot of mail-in ballots to be counted. Honda has increased his lead to 4046 votes since election night).
Representative Mike Honda has called a news conference for this morning to make what his campaign calls a major announcement.
I'm not a fortune teller, but I suspect he is preparing to declare victory in the congressional race in California's District 17 –the only Asian American majority district in the continental United States.
Both the Santa Clara County & Alameda County election departments continue to count mail-in ballots.   Honda's lead over challenger Ro Khanna increased to 4.66 percent Thursday evening. That's up slightly from 4.46 percent Thursday morning.
It's not known if  Khanna has conceded the election. The campaign which is prolific with its news releases has not made any public announcements.
The news conference scheduled by Honda is set for 10am PST.