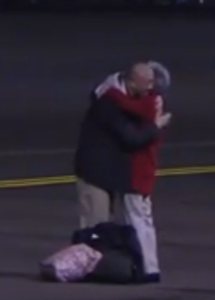 The Korean American believed to be imprisoned in North Korea longer than any other American  is back on American soil.
Kenneth Bae landed at Joint Base Lewis-McChord in Washington State Saturday night along with fellow prisoner Matthew Miller.
Bae had been held for two years and Miller has been imprisoned seven months.
"Thank you for supporting me, lifting me up and not forgetting me," Bae told a news conference according to USA Today.
He also thanked President Obama and the State Department and all those "who tirelessly worked" to get him released.
"I'm standing strong because of you. Thank you for being there as such time as this," he said.
Bae walked into his mother's arms as he feet touched the tarmac. His sister Terri Chung who lead the family's efforts to win his release was also on hand.
"We're finally here," she said. "My brother is home. All of our hopes and prayers for this moment have finally come true. We are so thankful."
You can watch a brief video of Bae being greeted by his family and making comments to the media in USA Today.
RELATED STORY:
Kenneth Bae Released from North Korea Prison