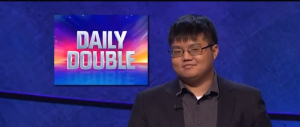 He's back. The reviled Jeopardy champ who has gone on to become a champion for Asian American issues returns this week for the two week Tournament of Champions competition.
Zap 2 It reports that Arthur Chu has been preparing for the competition with the same intensity he played in his first 11-game streak.
"I hope this doesn't sound creepy but I went back and found everyone that was going to be in the tournament," Chu says. "I watched all of Julia [Collins'] episodes. I watched all the episodes I could find of other players so I wouldn't be seeing them for the first time."
Collins is this season's player with the most wins–20 . Chu is best known for his unorthodox playing style during which he jumps all over the game board.
The annual Tournament of Champions pits the most successful players of the year against each other. Week one features three new contestants each day with the winners advancing to the semifinals along with the four highest scoring losers.
The three winners from the semifinals advance to the finals. You can read about what Chu considers his keys to success and how Collins plans to thwart Chu's strategy in Zap 2 It