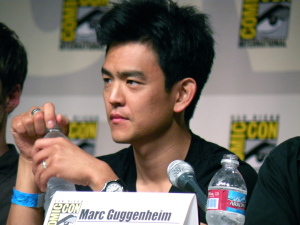 If you caught the last episode of Selfie (Tuesday Night's 8pm on ABC), you know that we're just starting to get hints of a blooming romance between John Cho's Henry and Karen Gillan's Eliza.
How this ends up, we may never know because ABC announced Friday it would not be ordering any additional episodes beyond the original 13. Tonight's show could be the last as ABC has not announced plans for Selfie beyond this week.
Salon's TV critic Sonia Saraiya thinks that would be tragic. She writes:
"It matters whether or not John Cho has a romantic story line — whether or not he's allowed to play up sexual energy in a role…

"And if it seems improbable that Asian men aren't encouraged to be sexually available romantic heroes, look no further than America's most watched television program, "The Big Bang Theory" — which has spent nine seasons making its Asian male cast member Raj Koothrappali into a caricature of ethnic jokes, nerd stereotypes and asexuality…

"It's an unsettling reality that the sitcom with the first Asian romantic lead just got canceled, in a world where the sitcom with an Asian lead who can barely speak to women is the most-watched show on television."
So is America ready for a show like Selfie which so much goes against the grain? You can read about that in Salon.
RELATED STORY:
#SaveSelfie–Fans Push to Keep Comedy on the Air