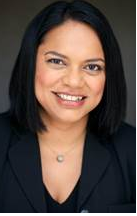 The National Council of Asian Pacific Americans (NCAPA) announced the hiring of its first
National Director, Mini Timmaraju Tuesday.
A public affairs and government relations professional, she most
recently served as Chief of Staff for Congressman Ami Bera M.D. Her prior experience includes serving
as the Director of the Office of the President for Planned Parenthood Federation of America and senior
roles on numerous state and local political and advocacy campaigns and organizations.
"I have so much admiration and respect for all of NCAPA's remarkable member organizations and what
they have individually and collectively accomplished for our communities," said Timmaraju.  "I feel privileged to have this
opportunity to serve at this critical moment in our organizational development."

In her role as NCAPA's National Director Mini will lead the organization's fundraising efforts and help
develop and implement the policy and communications strategy. She will also play an integral role in
ensuring NCAPA's agenda and leadership are represented on Capitol Hill, with the White House and
Federal agencies.
The National Council of Asian Pacific Americans (NCAPA), founded in 1996, is a coalition of 33 national
Asian Pacific American organizations. Based in Washington D.C., NCAPA serves to represent the
interests of Asian American, Native Hawaiian and Pacific Islander (AA & NHPI) communities and to provide a national voice on policy issues and priorities.
Gregory Cendana, NCAPA Chair and Asian Pacific American Labor Alliance (APALA) executive
director said "I am confident that Mini will hit the ground running, be a strong asset in this next phase of NCAPA and
further our efforts to build our collective power for Asian American, Native Hawaiian
and Pacific Islander communities."
Lisa Hasegawa, NCAPA Treasurer and National Coalition for Asian Pacific American Community
Development (National CAPACD) executive director joined in praising Timmaraju.
"I am thrilled that Mini is joining NCAPA as its first National Director. Mini has the passion and strategic
thinking of a community organizer, and the intimate knowledge of DC policy and advocacy processes. I
look forward to working with Mini to ensure that NCAPA is an influential voice for AA &NHPIs and a
staunch ally in racial justice and civil rights advocacy."