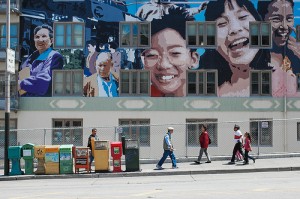 A recent Yahoo Travel piece tried to answer the question–who had the better Chinatown–New York or San Francisco (photo by jakubkadlec).
As you might expect from a mainstream outlet, it was done from a tourist's perspective.
Here's my perspective as a Chinese American who went to school in Chinatown for both grammar and middle school and hung out there on weekends through high school and college.
San Francisco's Chinatown is home of Willie Woo Woo Wong playground (formerly Chinese Playground) where kids and grown ups alike gather to play hoops, volleyball and tennis. It's a place where I could compete without having to worry about someone being a foot taller than me. It's a place I could feel at home, where the sand box still lingers with fond memories. The play structures had plenty of places I could hide and seek or swing like a monkey even in the year of the rat. It's a place my grammar school, St. Mary's, would send us for recess because our school yard wasn't big enough to accommodate all of us.
Willie Woo Woo Wong Playground is a place bordered by two alleys, Waverly Place on one side and Pagoda Place on the other. It's a place where I have memories of treating myself to dim sum at Hang Ah Tea House or a cheap meal at Uncle's Cafe.
Across the street on Sacramento is another old hang out of mine, the Chinatown YMCA. The facility now is significantly upgraded, but its original sign remains as do the fond memories of Y Camp and basketball leagues.
What does New York Chinatown have? For me its a place to visit for a meal in New York City, but there's no heart there for me. Sure, I didn't grow up there. Yes, I admit this is an unfair comparison. So New York, convince me. Why is your Chinatown better than mine? If you're up for the challenge, I'd love to hear from you.