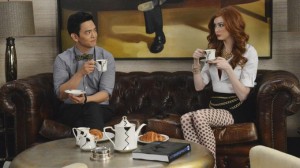 Zap to It is reporting that Selfie starring John Cho and Karen Gillan has been pulled from the Tuesday night line up on ABC for at least the next three weeks.
The network announced the cancellation of the program last Friday, but the fate of the remaining episodes has not been known.
This Tuesday's episode saw a slight uptick in the ratings, but apparently not enough for ABC. When the network announced the program had been cancelled, fans launched the popular #SaveSelfie hashtag and a petition on change.org was initiated. In less than a week, nearly 15,000 signatures were generated.
Next Tuesday's Selfie has been replaced by a repeat of Shark Tank and the following two weeks, Selfie will be replaced by a Dancing with the Stars highlight show and holiday programming. It's not known at this time if Selfie will return after that or if its remaining six programs will ever air.