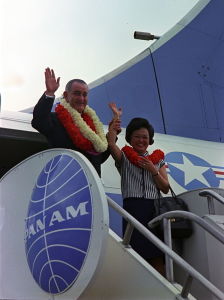 The first woman of color to be elected to Congress will be awarded Presidential Medal of Freedom, reports Hawaii Magazine (Photo shows Patsy Mink with President Lyndon Johnson in 1966).
Patsy Mink served in Congress for 12 terms beginning in 1965 until her death in 2002. The third generation Japanese American was raised in Maui and dedicated her life to fighting for gender equality and civil rights.
One of her biggest accomplishments was co-authoring Title IX in 1972 which helped bring equality in education and sports to women.
You can read how this award came about and the big names and celebrities who will be also be receiving this award in Hawaii Magazine.