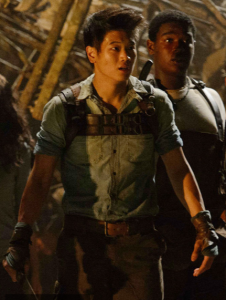 Ki Hong Lee may not be a name you might associate with a Hollywood actor, but The Maze Runner co-star has no plans to change it.
Lee is currently filming a sequel to the box office hit which grossed nearly $323 million worldwide. He talked with the Korea Times.
"Yeah, you definitely think about, when you're in America, getting an American name, whatever that's supposed to mean, but that's not who I am," said the 28-year old Korean American born in Seoul and raised in Los Angeles. "I could pick whatever name I want, but it doesn't hide the fact that I'm Korean American. So why mask it with a name that's supposedly easier for people to pronounce? … For me, it was just holding onto that, embracing where I come from."
The next Maze Runner film The Maze Runner: Scorch Trials is due out in September of next year.
Lee remains connected with the Asian American community. He'll appear in Wong Fu Productions first feature film and will also be in the psychological thriller, The Stanford Prison Experiment.

"I feel that the Korean community has my back in terms of what I'v done and where I've come from. I appreciate that very much," Lee said.
You can read his thoughts on working in the risky field of professional acting in the Korea Times.
RELATED STORY
Ki Hong Lee Debuts in box office hit The Maze Runner