Recording artists Run River North will be performing tonight at the national finals of Kollaboration Star 2014 in Los Angeles.
In addition, the top six finalists from regional competitions around the country will be competing for the national title.
This will be the second time Run River North has returned to Kollaboration Star as performers since competing in earlier years.  Lead vocalist Alex Hwang  took time to answer a few questions from AsAmNews.

What do you remember about the competition in 2011 and how did you guys do?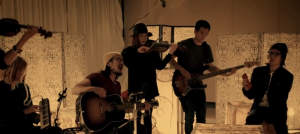 It was the first time we had played together as a band and I definitely had to remember to calm down as the curtains were opening. We were playing the song Monster Calling Home and I was really hoping the audience would hear every word as it was and is still an important song to us. I remember we had a lot of fun on stage, we had a great dressing room to hang out in, and it was great to meet a lot of the other artist – some of whom we still keep in touch and some we are seeing at this Kollab!
We lost.
What will it be like for you and the band to return to Kollaboration?
Why was it important for you to return?
We've played other Kollabs since then – SF and then another LA one. We lost at the SF one, we auditioned for both Seattle and NY but didn't get in. And then the LA one, we just performed as a guest performer instead of competing.
Given our track record, as competitors, we don't really fare too well. But more importantly, it's really about getting to perform on another stage, win fans over and seeing for yourself if this is something you want to do – win or lose.
Thankfully, we get to come back as guest performers. I think it's important for us to know where we've come from and also have an opportunity to play at the Wilshire Ebell, which we've never played at as a band.

As a singer/songwriter, where do you get the inspiration for your songs?
From our folks, from folks we know, imaginary folks, from our own lives, books, other artists, nature, friends, fans, females, males, food, power rangers, other songs.

What has been happening with the group since the release your debut album, Monsters Coming Home. What will you do for a follow up?
Touring, some music videos, shows, shows, shows.
Make more music and tour as much as we can and hopefully play better shows.
(Editor Note: Kollaboration Star 2014 takes place at the Wilshire Ebell Theater in Los Angeles. In addition to the finalists and headliner Run River North, also performing will be singer-songwriter Alfa, dance crew Kaba Modern, alternative hip-hop artist DANakaDAN, and comedian Nancy Lee. Tickets are available here.))
RELATED STORY: