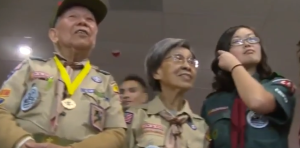 In 1975, the communist Vietnamese government banned the Boys Scouts and other Scouts in the country. Yet the long tradition of scouting in the Vietnamese community has survived.
Scores of people celebrated 30 years of Vietnamese American scouting in Sacramento this weekend, reports KCRA.
Among the celebrants, three generations of scouts from the same family. Their first generation were Boy Scouts in Vietnam. Despite the ban, the tradition continued when Vietnamese Americans arrived in America.
You can see the celebration on KCRA.