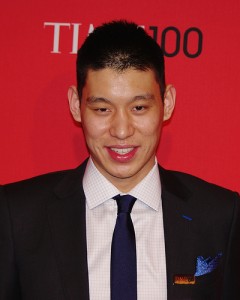 Kobe Bryant wanted Jeremy Lin to become more aggressive, to take charge and show the leadership expected of a point guard.
Little did Kobe suspect Lin's approach to taking charge would include pointed remarks directed at him.
After a night in which Bryant took 34 shots to make 44 points and the Lakers lost for the ninth time in 10 games, Lin gave an honest assessment of the situation, reports ESPN.
"The game of basketball is … we've got to do it together. It can't be … if I go into a game concerned about myself, then in some ways that's detrimental to the team," said Lin. "There's so many things wrong right now. At the top of the list, I would say communication, trust and effort."
Lin took only two shots in the game in 22 minutes of play in a 136 – 115 lost to the Golden State Warriors.
Teammate and power forward Carlos Boozer agreed with Lin.
"A lot of times we run a set, but Kobe is extremely aggressive. And then we try to hit the glass, get it off the glass. We've got to find a balance. It can't be lopsided. We've got to find a balance."
The sentiments were echoed by two former Lakers who now work on the Laker broadcast crew as analysts.
"It's Kobe this, Kobe that, and you can see the frustration in the other guys," said Robert Horry. "Jeremy Lin stated it. Boozer stated it in the interviews that there's some lack of trust going on and they want to be more involved in the team effort to win ballgames."
James Worthy who won three NBA championships with the Lakers in the 80s echoed those thoughts.
"When I hear 'lack of communication and trust' from Jeremy Lin, that makes me wonder if everyone is in sync. It doesn't seem to be because the defense is not showing us that they're connected."
Will Kobe Bryant listen? You can read his remarks on ESPN.