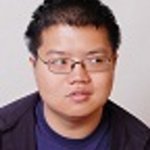 The showdown Jeopardy fans have been waiting for between Arthur Chu & Julia Collins is all set.
Chu won his semi-final match Tuesday night in the Jeopardy Tournament of Champions. The self described mad genius got off to an early lead and held on, according to Cleveland.com. He was the only contestant last night to correctly respond to the final jeopardy.
"I kind of feel like we'd be cheating America if we didn't make that matchup happen," he said last night.
#Finalists are @arthur_affect & @JeopardyJulia !!! #WillBeBestGameEver ! (without @bradrutter, I guess…)

— thumbelina (@dr_thumbelina) November 19, 2014
Collins entered the finals by winning her semi-final match on Monday. The third finalist will be determined tonight and then the three will compete in a two day tournament final for the $250,000 grand prize.
Anyway the two big champs of this year are now in the Finals. Who will be our Dark Horse? @wingnutsandie @julysixteenth @CharoinCharge

— Arthur Chu (@arthur_affect) November 19, 2014