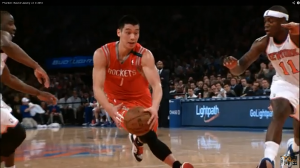 Jeremy Lin's return to Houston took a surprise turn in the middle of the first quarter of Wednesday night's game between the Houston Rockets & Los Angeles Lakers.
The Rockets played a tribute video to Lin and James Harden described his former back court mate as a "warrior," reported Culture Map.
The accolades were quite unexpected for a player who was benched by the Rockets and ultimately disrespected. You'll recall Houston unceremoniously handed Lin's number to Carmelo Anthony in an unsuccessfully bid to court his services.
Lin took to Twitter to thank his former team.
Gutsy team win!! Thanks @HoustonRockets for the classy video…good seeing everyone back at the TC!

— Jeremy Lin (@JLin7) November 20, 2014
The Lakers went on to win their second game in the row since Lin criticized Kobe and the Lakers for not trusting each other–Lakers 98 – Rockets 92. Houston was without the services of Dwight Howard who was out officially with "knee trouble" on the day he is accused of physically abusing his child.