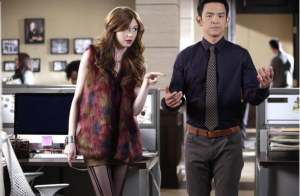 It looks like fans of ABC's cancelled Selfie will get to see a few more episodes while the network could soon announce the date for the debut of Eddie Huang's Fresh Off the Boat.
Selfie's executive producer Emily Kapnek has announced the remaining five episodes of the program will air soon on Hulu, Hulu Plus and ABC.com
At the very least, Selfie fans who launched a campaign for ABC to cancel its cancellation will get a few extra first run doses of the show.
It's also possible that if the remaining episodes get a lot of interest a cable network could bring the show back.
The announcement from Kapnek came on the same day ABC aired its first promo for Fresh Off the Boat, the story of an immigrant family from Taiwan adapting to life in America.
The show is expected to be a mid-season replacement, but ABC has yet to announce its debut. The airing of the promo perhaps is a hint from ABC that a date for the show's launch could be announced soon. Stay tuned.
Jeff Yang, the proud father of Fresh Off the Boat child star Hudson Yang, posted the promo on You Tube.