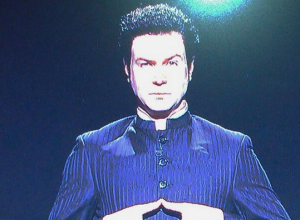 Bruno Mars is scheduled to appear on Saturday Night Live this weekend. The Filipino American hit machine from Hawaii will appear with Mark Ronson to perform their new single, Uptown Funk.
My initial excitement about the appearance (I still remember Mars Rocking the Superbowl last season) was quickly tempered by my distaste for SNL's habit of turning to yellowface for cheap laughs.
Melissa McCarthy did a kung fu parody last February complete with actor Taran Killam muttering a lousy Asian accent and showing off a squinty eye expression reminiscent of Fu Man Chu sans facial hair.
Then just last month, the lack of diversity on SNL showed again when it was forced to use Bobby Moynihan to play North Korean dictator Kim Jong-Un. As Angry Asian Man said back then, it's "damn awkward."
Mars doesn't need Saturday Night Live to sell albums. I don't expect him to do it. But I wish he would call in sick and not appear on Saturday. Or maybe he should vomit on the set first, then walk off. What do you think?