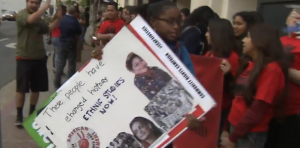 The Los Angeles Unified School Board has approved a requirement requiring students to complete an ethnic studies course while San Francisco's school board president is pushing a similar measure.
The vote in Los Angeles which took place this past week would phase in the classes with the full requirement becoming affective with the class of 2019, reported KABC.
Students rallied outside the school board meeting supporting the measure which require an ethnic studies course be completed before high school graduation.
"I often feel oppressed, because all we learn is the white man's point of view of history," said Cindy Reyes, a student in the district.
You can watch a video clip from the demonstration below.
In San Francisco, a vote is expected to be taken by the school board next month, reports the San Francisco Chronicle.
School board President Sandra Fewer wants the class to be available in each of the district's 17 high schools. Her hope is to eventually make the course a requirement for graduation.
An online petition supporting the idea has been circulating.
Opponents have raised issue about costs and say ethnic studies courses are divisive.
Currently ethnic studies is offered at six of San Francisco's 17 high schools.
"It's not just reading articles and showing the facts," said ninth-grader Karla Velazquez. "It teaches you how people communicate. … It's more about how you can improve yourself."