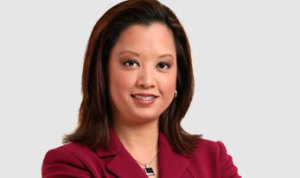 Life as a news reporter can often bring the unexpected. Such was the experience of Valerie Chinn, a reporter at Fox Affiliate WDRB in Louisville, Kentucky when she confronted a local fire chief about spending issues in his district.
A reporter's job is to get to the truth. Often times, that means asking tough questions and being put in uncomfortable situations.
As previously reported, here's how Chief Julius Hatfield of the  Southeast Bullitt Fire Protection District reacted when Chinn remained persistent in her questioning.
"Why are there so many firehouses that are empty?" Chinn asked Chief Julius Hatfield.

"Do you understand English, darling?" Hatfield asked. "Do you understand English? I just told you I don't have anything to say to you."

"I understand English," Chinn replied. "I don't appreciate how you are speaking to me."
Chinn agreed to answer a few questions from AsAmNews.
Please describe your relationship with Chief Julius Hatfield prior to the meeting you attended in that report of November 13.
I have done several stories on the SE Bullitt Fire Department. It started with firefighters who claimed they were wrongfully terminated. That led to other stories and the Fire Chief then admitted to falsifying training records which are tied to state aid.  From there, I was getting more and more tips about the department and started looking deeper into their records. The Chief had always declined comment on my previous stories.
What went through your mind when he asked you if you understood English?
I went to the meeting to get video of him and one last opportunity for comment. I was shocked the first time he asked me if I understood English, but was even more shocked when he kept asking it over and treating me disrespectfully.   He threw the microphone that ended up hitting me in the leg. I was shocked at his actions because we always put microphones down  on the table at meetings to get audio.
For those that don't understand why you reacted the way you did, can you please explain in your own words?
My reaction was to still treat him professionally. As a reporter, I chose to continue to try to interview him, but still do that in a professional manner, no matter how he treated me.
Residents had questions and so did I.
What was the reaction to your supervisors at WDRB and your co-workers?
My supervisors and co-workers were just as shocked as me.
My General Manager even did this opinion piece that is getting a lot of feedback.
What prompted your year long investigation into the finances at the fire district?
My previous stories had prompted the longer investigation. It took months of work with Open Records Requests. I had a lot of help from co-workers.
Please tell our readers a little about yourself. Where did you grow up, how long have you worked in Louisville and where else have you worked?
I am Chinese and Vietnamese. I was born and grew up in Portland, Oregon and went to college at the Univ. of Missouri-Columbia School of Journalism. My interest in journalism started in high school. I worked on the school newspaper and had several great mentors from AAJA(Asian American Journalists Association). After college,  I worked as the Weekend Anchor/Reporter at KAAL-TV in Austin, MN and Duluth, MN for 3 years. Then, I got a job in Louisville at WDRB-TV in 2001. I am currently the 11:30am Anchor/Reporter.
I am a working mother of 3. My husband and family love living in Louisville. We have made this city our home.
You can watch the confrontation on video in our previous story.