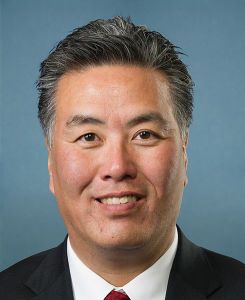 Sen Rand Paul's (R-KY) remark comparing the executive order on immigration with the executive order incarcerating Japanese Americans is "insulting" and "misguided" said Japanese American lawmakers in Congress.
CNN reports that Rand's comments drew an immediate rebuke from both Rep Mike Honda (D-CA) and Rep Mark Takano (D-CA) (pictured).
"Rand Paul's comments could not be more misguided," said Honda. "As someone who as victim of executive order 9066, I can say without hesitation that (President Franklin Delano) Roosevelt was wrong," Honda said. "It was a misuse of power. President Obama's order is an appropriate use of executive order because Congress did not do its job."
Takano joined Honda in his condemnation calling the remarks "insulting not only to the millions who will benefit from President Obama's executive action, but to the thousands of Japanese who were interned during World War II, including my own mother and father."
You can read the response from Rand's office to the criticism along with more of Rand's thoughts on the matter on CNN.