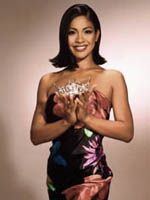 Thirteen years after becoming the first Asian American Miss America, Angela Perez Baraquio shares her story in her new book Amazing Win, Amazing Loss: Miss America Living Happily Even After.
She told the Daily Breeze the book covers everything from the lead up to her pageant victory to her brother's suicide in 2006, to life after Miss America.
Baraquio was 24-years-old, the oldest eligible age, when she decided to enter the competition. Her students on the volleyball, basketball and track teams she coached had dared her to enter Miss Hawaii in 2000.
"I was totally behind the curve," she said of entering the competition. "I was teaching, just chilling. My students were so excited. I told them I'd help them every day on basketball skills if they tried out for the team. I was juggling teaching, coaching, doing community service, work. It took a lot of time management."
The significance of her victory to the Asian American community didn't hit her until she began meeting people.
"As a young Filipina girl growing up in Hawaii, I always watched Miss America on TV, but never felt that it was an achievable dream because no winner ever looked like me or slightly resembled me at all," she said.
"When I won, people came up to me and said, 'I'm Thai … I'm Japanese … I'm Korean… and I'm so proud of you.' I thought: 'I'm Filipina, I don't get it.' Then it hit me that I was the first and only Asian Miss America ever."
So what is she doing today and what is the message of her book? You can read about that in the Daily Breeze.