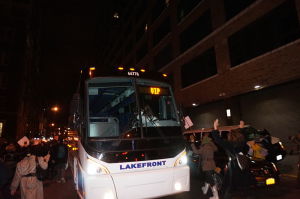 Community activist Deepa Iyer in her blog writes about a shift in the protests of the Grand Jury's decision not to indict Officer Darren Wilson for the death of Michael Brown.
The shift seemed to happen going into the Thanksgiving weekend. As Iyer put it, the protests moved away from the streets to areas of middle America. In Oakland, protestors chained themselves to a BART train causing delays. In Washington, DC, demonstrators took their outrage into the Pentagon City Shopping Mall. Several other shopping malls across the country were also disrupted across the country.
Is it right to inconvenience so many people to make a point. In Iyer's view, the answer is a resounding yes.
She quotes actor and activist Harry Belafonte who said ""You need the courage to be inconvenient."
Iyer makes some good points, but I would have liked her to address the elephant in the room–the protestors who have looted stores and destroyed property. I don't think this is the type of "inconvenience" Belafonte was calling for.
What do you think? Read Deepa Iyer thoughts and let us know what you think. Is inconvenience an effective tool for social justice?