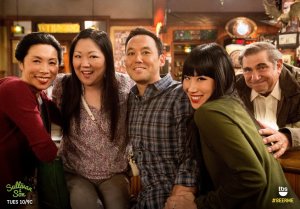 TBS has cancelled Sullivan and Son, the comedy set in a Pittsburgh bar with a large Asian American cast, reports Rafu Shimpo. (Jodi Long, Steve Byrne, Vivian Bang and Dan Lauria pictured with guest star Margaret Cho),
The show starring Korean Irish actor Steve Byrne with Jodi Long and Vivian Bang has played in relative obscurity for three years. Unlike the upcoming Fresh Off the Boat or the just cancelled Selfie, Sullivan & Son rarely got mentioned in the context of diversity on television.
Long says she'll miss playing OK Cha, Steve Sullivan's mother.
"As an Asian American actor, we are normally relegated to just pushing the plot along," said Long.  "But as Ok Cha, even though things might have been extreme at times — which was the comedy— I got to play all aspects of this very complex mother."
You can read more about the impact of Sullivan and Son in Rafu Shimpo.
RELATED STORIES
Korean-Irish Comic Struggles to Find His Space