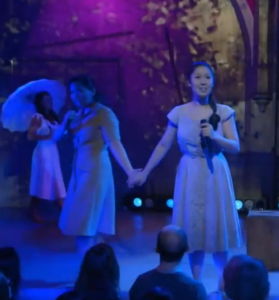 By Ernabel Demillo
Asian Americans theater actors are suddenly in demand. With several big name revivals opening in 2015, along with more plays and musicals focusing on the Asian and Asian American narrative, Asian American actors are finding their names high on the list of casting agents.
According to the Asian American Performers Action Coalition (AAPAC) Asian Americans working in theater went up 2% this past season to 5%, a 7-year high. This is due largely in part to non-profit theater groups, including the Signature Theatre where David Henry Hwang served as resident playwright and The Public Theatre, where the critically acclaimed musical Here Lies Love will be wrapping up its run.
The show, produced by David Bryne and Fat Boy Slim, tells the story of former Philippine first lady Imelda Marcos. The cast is mostly Asian — and the three lead roles are currently being played by Filipino Americans.
"I've played Vietnamese, I've played Thai, I've played Native American, but to play Filipino in a huge production? This is the first time, " said Jaygee Macapuguy, who recently stepped into the role as Imelda Marcos. "For the Filipino Americans in the show , It's just a feeling of pride and we sing our hearts out every night."
Her leading men are also Filipino American. Conrad Ricomora plays Benigno Aquino and veteran actor Jose Llana is Ferdinand Marcos.
"In the 19 years I have been working on Broadway it has shifted and I think a lot of it has to do with there are more and more Asian Americans who are going into the arts because the second generation is becoming a much bigger part of society," said Llana, who has had leading roles in Flower Drum Song and On the Town.
But AAPAC also noted that on Broadway (off Broadway theaters, generally, have less than 499 seats) Asian representation actually dropped 2% of all available roles.
But that number will surely go up in 2015 with the much anticipated revival of The King and I. Two of the leads in Here Lies Love Ricomora and Ruthie Ann Miles, who originated the role of Imelda, will join Ken Watanabe in the revival. Some 30 parts have been cast with Asian American actors.

Miss Saigon is also scheduled to return to Broadway. And it was that show when it debuted in 1991 that inspired young girls like Jaygee.
"I just never really thought that you could have a career doing theater, but it became more real when I saw Lea Salonga in Miss Saigon," she said.
For more on this story watch Asian American Life:
(Ernabel Demillo is host of Asian American Life)
This month's show also features:
Caring for Aging Parents
With the number of Asian American seniors growing 64 percent from 2000 to 2010, correspondent Kyung Yoon reports on the up- and downside of parental care. Susan Tang, widowed with two children, invited her mother to move in. "Grandma" prepares breakfast, cleans, does the laundry, and is a vital part of the family. Leo Duran, on the other hand, is separated from his mother who is ill and in the Philippines. He stays in touch via Skype, consults with his mother's physicians, and sends money home. Retired Maj. Gen. Antonio Taguba, who serves as a Community Ambassador for AARP to assist with senior planning in the Asian community, recalls when his mother died and his father had dementia – "We had a reaction, but not a plan."
Terracotta Daughters
As a modern commentary on the historic Chinese Terracotta Warriors from the late third century BCE, artist Prune Nourry created an exhibition modeled on real Chinese girls called Terracotta Daughters. Paul Lin interviews the artist on location with the exhibit when it was at the China Institute early this fall. Like their historic antecedents, these figures will be buried in 2015, to be unearthed in 2030. A full-length documentary about the project is in the works.
Origami USA
Next to the Rockefeller Christmas Tree, the Origami Holiday Tree at the American Museum of Natural History is the second most popular holiday attraction in New York City. It takes up to a year, and thousands of volunteers from all over the world, to create this impressive tree adorned with over 1,000 origami models. Ernabel Demillo goes behind the scenes to see how the Origami USA team designed and created this year's theme of A Night At The Museum: Secret Of The Tomb.
*Broadcast and cablecast at 10am, 3pm and 8:30pm; repeated Sunday 12/7 at noon; Friday 12/19 at 10am, 3pm and 8:30pm; and Sunday 12/21 at noon on CUNY TV. CUNY TV is broadcast over-the-air in the tri-state area on Ch. 25.3, and cablecast in the five boroughs of New York City on Ch. 75 (Time Warner and Cablevision/Optimum), Ch. 77 (RCN) and Ch. 30 (Verizon FiOS). On and after December 5, the program can also be viewed online anytime on www.cuny.tv.