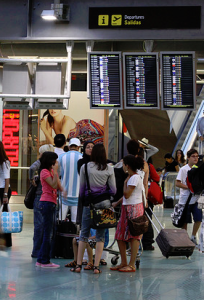 New federal guidelines expected to be released next week will do nothing to halt racial profiling of South Asian Americans and others at the nation's airports.
The Washington Post reports that profiling will still be allowed by Homeland Security agents during airport screenings and at the borders.
The issue has been a central one for South Asian Americans who have been subjected to extra searches, detentions and questioning at airports since 9-11. The community has also seen an increase in hate crimes and racial harassment.
Community activist Deepa Iyer  immediately questioned the expected new rules.




DOJ profiling rules may exempt TSA, mapping by FBI, & ICE. So, it's still ok to profile Sikhs, Muslims & immigrants? http://t.co/h7EB3JchCk

— Deepa Iyer (@dviyer) December 6, 2014
The new guidelines comes amidst the national debate over Grand Jury decisions not to indict officers in the choke hold death of Eric Garner and shooting of Michael Brown. The guidelines will prohibit FBI agents from considering factors such as religion and national origin when opening cases­, officials said.
You can read a closer look at the new guidelines in the Washington Post.