Growing up Japanese American is a unique experience with numerous facets. There's always the prevailing assumption that anyone with Japanese blood, particularly Japanese females, loves Hello Kitty. Growing up around Sanrio in the 1980's and 90's it was impossible to avoid from the local store in the mall, to the closet full of goodies that the first generation friend of grandma had for visiting children. As a Keroppi frog fan, I never was too keen on Hello Kitty. When the Japanese American National Museum (JANM) in Los Angeles announced a special exhibition celebrating the 40th birthday of Japan's favorite cartoon girl (or cat for people who haven't quite grasped Sanrio's explosive declaration), I had to see what the fuss was about. The Swarovski encrusted Hello Kitty figurine was too much to resist for a sparkle loving Sansei.
The museum itself is located in Little Tokyo, steps from the Japanese Village Plaza and dozens of shops selling everything from mochi ice cream to beauty products and home decor. JANM is home to a large collection of camp artifacts depicting life inside the prison camps Japanese Americans on the West Coast were forced to live in during the Second World War. The museum also houses a research center for Japanese Americans to track their ancestors' path to citizenship, gift shop, tea shop and garden, and rotating exhibits.
Upon entering the exhibit, visitors are briefed on the history of Hello Kitty and can view the very first product ever manufactured, a small coin purse along with a variety of trinkets from pencil cases to hair dryers and cell phones.
Anything one can dream up as Hello Kitty exists. Surf and skateboards, motorcycle helmets, a men's suit, school uniforms, curling irons,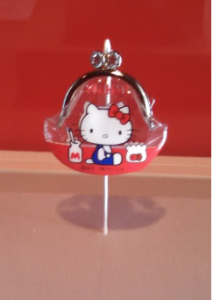 refrigerators, waffle irons, sushi makers, and a nightmare inducing Elmo/Hello Kitty hybrid all are on display. EVA Air has Hello Kitty flights equipped with emergency evacuation manuals featuring the world famous girl and printed materials from those flights are all prominently showcased in the downstairs exhibition hall. Enamored superfans can outfit their weddings with Hello Kitty Champagne bottles and flutes. Hello Kitty motor oil anyone?
Taking the winding path toward the upstairs rooms leads visitors through a timeline of merchandise produced in the forty years since Hello Kitty's creation, and affording shutterbugs with plenty of photo opportunities. Upstairs, famous artists exhibit works created alongside fans of this timeless little girl. The art pieces are interesting to say the least. Some, outright mindboggling. Abraham Lincoln in Hello Kitty attire, the museum has it. Godzilla Hello Kitty is here as well. The exhibition itself is an overwhelming experience for novices. One could spend hours inspecting and analyzing all the pieces on display.
Outfits and accessories worn by celebrities like Lady Gaga (her famous Hello Kitty dress is here) adorn a section of the exhibit. Tucked in a corner of the second floor sit two Hello Kitty sex toys alongside a book declaring Hello Kitty must die in a case for the more controversial merchandise. Visitors, including this one, didn't hesitate to take photos with the numerous murals and wall art pieces.
Upon exiting the exhibit, one is confronted by the permanent exhibits in the museum. It's a startling reality that happy, cute Japanese culture is
countered by appalling treatment of Japanese Americans in the twentieth century and the tireless activism that followed decades of racism. Another ongoing exhibition is a history of the Heart Mountain prison camp in Wyoming that housed nearly 11,000 people at its peak. If you're lucky, you might be able to speak to one of the internees volunteering at the museum and hear a first hand account of that dark period in American history. A stark reminder that views of Japanese and Japanese Americans haven't always been as bright and cheery as a cute little girl with a red bow in her hair.
Hello Kitty is a divisive character. Love her, hate her, fall somewhere in the middle, JANM has something for everyone. As one of the museum's major revenue streams, the exhibition is well worth the price increase over the normal admission fee to the museum. This apathetic visitor found things that were intriguing and fun. So if you're in Los Angeles, head over to the Japanese American National Museum and check out the eclectic and somewhat strange world of Hello Kitty.
What: Hello! Exploring the Super Cute World of Hello Kitty
Where: Japanese American National Museum
100 N Central Ave
Los Angeles, CA
When: Now through April 26, 2015
Cost: $20/adults; $10/youth 6-17; children under 5 are free (no re-entry)
http://www.janm.org