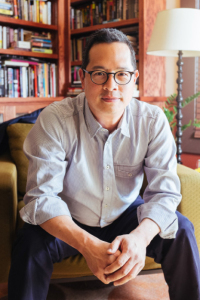 Author Jeff Chang has been nominated for an NAACP image award for his book Who We Be, The Colorization of America.
The book is a strong retrospective on the evolution of race in America through the eyes of artists.
"Race is not a question of biology. It's one of culture," said Chang at a recent gathering in San Francisco organized by Chinese for Affirmative Action. " It's about what we see and what we think about what we see.
"Racism is supported by a specific kind of refusal. A denial of empathy. People of color were simply not seen.
He described the current culture wars in the US a struggle for the "soul of America." He believes the election of President Obama is a big reason for this.
You can read more about Chang's book in the Huffington Post.
Wow… #WhoWeBe got nominated for a NAACP Image Award. http://t.co/dkoqMO0KCK

— Jeff Chang (@zentronix) December 10, 2014