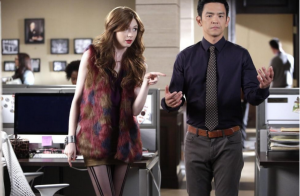 This week's karaoke episode of Selfie now available on ABC.com and Hulu Plus  is the best of the ten so far released.
It comes as a new twitter campaign is scheduled to be unleashed today to save the show.






@AsAmNews Almost 33,300 signed to #saveSelfie Starting a new wave of our twitter campaign tomorrow can you share pls? pic.twitter.com/RBjHgvFZz3

— Jamie Schneider (@JamieSchneider4) December 12, 2014
Episode 10 is titled Imperfect Harmony, a play on the annual karaoke party at KinderKare. The songs Eliza and Henry choose to sing say a lot about their feelings for each other.
If you saw last week's episode, you know things are getting hot and heavy, but where they end up is anybody's guess. This week's episode wrestles with the conflicting feelings felt by Eliza and Henry, although Eliza seems more certain of herself right now than Henry.
Both characters display elements of a split personality. Imperfect Harmony possibly hints at the direction each wants to go. But then again, when you see the end, maybe not.
Episode 10 is a laugh out loud episode with lots of feeling. If you love musicals, you should like this episode. Selfie is the best show on TV or digital America hasn't discovered.
The next episode of Selfie will be released this coming Tuesday, December 16.
Tonight at 8 Eastern/5 Pacific, fans are encouraged for just 30 minutes to bombard Hulu with pleas on Twitter to save selfie. Use the hashtag #SaveSelfie. Get your friends to do it too.
(editor's note: This post has been updated to remove some incorrect Nielsen data that was posted earlier)