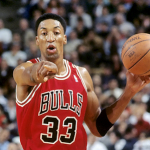 NBA great Scottie Pippen and 30 Rock star Judah Friedlander will join the cast of Fresh Off the Boat as guest stars, reports EW.
Pippen will play the father of one of Eddie's friends and will end up giving Eddie's family tax advice.
Friedlander will play a school counselor and urge Eddie to do something more constructive such as run for student council.
Hudson Yang stars as Eddie Huang in the show. His father, noted blogger Jeff Yang,  tweeted out some pictures from the set. Fresh Off the Boat debuts Wednesday, February 4 at both 8:30 and 9:30 Eastern/Pacific sandwiched around the highly rated Modern Family.  It will then move to its permanent time slot of Tuesday at 8 pm on ABC.
Yasssss @HudsonDYang and @ScottiePippen. Just, you know, hanging. #HanginWithMrPippen #FreshOffTheBoat @FreshOffABC pic.twitter.com/rQocxoDg5E

— Jeff Yang (@originalspin) December 12, 2014