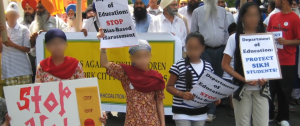 The suicide of a 12-year old in Folsom near Sacramento followed years of being bullied, reports Rafu Shimpo.
Ronin Shimizu killed himself December 3 despite his parents efforts to intervene with school administrators, move him to a different school and even home school Ronin.
According to the Japanese American Citizens League, the bullying included slurs, name-calling, and physical violence.
Ronin enjoyed art and was an active member of the Vista Junior Eagles Cheer Squad.
"The Japanese American Citizens League is deeply saddened by Ronin's passing and we express our heartfelt condolences to Ronin's parents, his family, and friends. JACL is mindful that the bullying suffered by Ronin is a severe problem within our schools. It's a problem that can manifest itself in early childhood, and without intervention and prevention programs, it can persist.," said the JACL in a statement.
You can read more about the problem of bullying of Asian American youth in Rafu Shimpo.