Some people are so afraid of diversity, they try to turn the equation upside down and call diversity in itself inherently racist.
YOMYOMF points out a series of tweets from whites who have slapped that label on the upcoming ABC sitcom Fresh Off the Boat.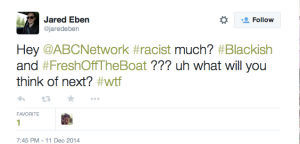 I've seen that same comment following a recent write up about the series I saw on the internet. I don't know if it's the same person.
Blackish is one of the most successful new shows of the year. It's landed in the top 10 for the season so far in the important advertiser friendly 18-49 demographic. Apparently it would upset the universe if a second show with a largely minority cast succeeds as well. Fresh Off the Boat poses a threat to their white privilege.
Here are a few more tweets.
Interesting comments, considering the show hasn't aired yet.
Fresh Off the Boat has been shown, however, to a few select audiences. Philip of YOMYOMF was among the few who have seen it.
You can read his comments in YOMYOMF.
Fresh Off the Boat will air two preview episodes at 8:30 and 9:30 pm Eastern/Pacific on February 4 before moving to its 8pm Tuesday night time slot February 10.