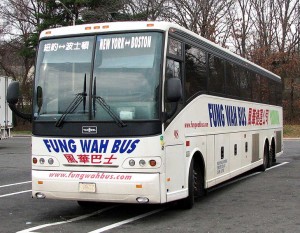 Shuttered Fung Wah has received permission from federal regulators to reopen 18 months after being closed for safety violations, reports Reason.
Fung Wah provided service to and from major Eastern cities such as New York and Boston. It's business model of foregoing bus terminals and picking up and dropping off passengers on street corners has been copied by others including Bolt and Megabus.
The popular company has spent $400,000 upgrading its fleet of buses and training its drivers since the closure.
Service is expected to resume early next year. You can read about its struggles to reopen in Reason.
RELATED STORIES
Feds Shut Down Popular New York Chinatown Bus Company
Shutdown NY Chinatown Bus Company Has Long History of Trouble
Regulators Stop Return of Fung Wah Bus Company