The campaign to save the humorous, witty and socially relevant Selfie moves to Warner Bros TV tonight.
The studio which is behind the now cancelled TV show on ABC is being urged by fans to find a new home for the program.
Fans are being urged to send twitter blasts to @warnerbrostv and ask that they find Selfie a new venue.
Up to now, the efforts have focused on ABC to bring the show back and Hulu, which has been running unaired episodes on Hulu Plus, to order a second season.
Tonight's Twitter blast to @warnerbrostv is scheduled for 8 Eastern and 5 Pacific.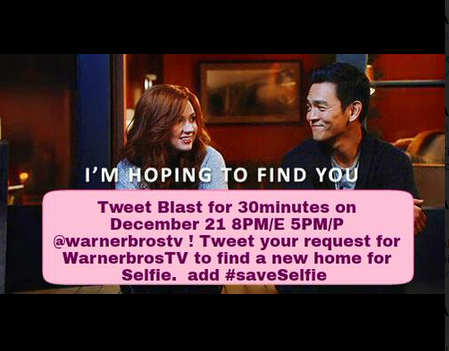 RELATED STORIES
Why fans are working so hard to save Selfie
It can't end this way. Help Save Selfie
Selfie is the best show America hasn't discovered