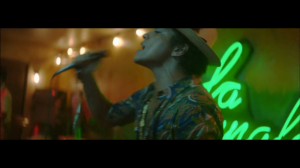 Bruno Mars is not only a hit on the music charts, he's a hit in wedding chapels as well.
Inquisitr reports that   Bridal Guide wrote an entire article on the five Bruno Mars songs to include at your wedding and wedding reception.
A further check found more than 700,000 instances on You Tube where Bruno's song Marry You is used for public marriage proposals.
You can count New York Soccer League player Sean Murdoch as among those men inspired by Bruno.
Check out his proposal below.