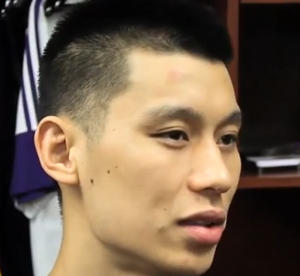 There's been much debate in Lakerland about whether Kobe Bryant is shooting the ball too much.
Last night in Los Angeles, the team got a taste of life without Bryant. With Byron Scott deciding to rest the superstar, the Lakers beat the team with the best record in the NBA. The Lakers beat the Golden State Warriors 115-105 in a game which really was a blow out until garbage time.
But with Bryant sitting, Jeremy Lin didn't get any more playing time than he's been getting coming off the bench. He played 25 minutes and scored 11 points with 5 assists. That's about what he has been doing.
After the game, he talked about playing without Bryant.
"It's definitely different because when he's in the game he's our best player so you want to definitely try to cater to him," said Lin. "And get him goin' & allow him to do what he does. We've got to find a balance to get the best of both worlds."
It's the same message Lin delivered a day earlier when he said the Lakers should follow the San Antonio model with good ball movement and getting everyone on the team involved.
So what does coach Byron Scott think about playing without Kobe Bryant. Are the Lakers better without him?
Scott's answer is in the clip below.