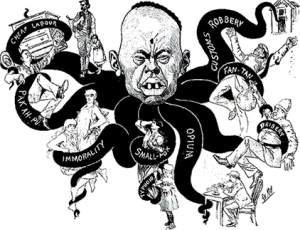 (Editor Note: Today we begin our look back at the top 5 most viewed stories of 2014 on AsAmNews).
"Are you a ching chong?"
Those were the hurtful words a Chinese American customer heard from a Whole Foods employee at it New York City location near Chinatown on July 4. Since then, Whole Foods has refused to follow through with its own offer to meet with Kwok-Ming Cheng, the customer stunned when he was asked the racist question.
Since AsAmNews broke this story, it has been picked up by National Public Radio and several Chinese media outlets. Yet Whole Foods has refused to acknowledge the seriousness of the incident and the hurt it caused the Asian American community.
Whole Foods refused to meet with the Asian American Legal Defense and Education Fund which Meng asked to assist in this matter. Whole Foods has also broken its own commitment to meet with Cheng and his friend and AsAmNews blogger Shirley Lew.
Cheng and Lew have requested Whole Foods issue a public apology to the Asian American community and set up diversity training for its employees so such an incident doesn't happen again. The closest the chain has come to addressing the demands is to imply the issue has been blown out of proportion and that is should not concern the Asian American community since it only involved one individual, Cheng.
Here's what Whole Foods doesn't get. It doesn't understand that Cheng isn't the first and won't be the last Asian American to be called "ching chong." The term goes back to the 19th century, about the same time the anti-Asian cartoon on this post was published.  So when members of the community heard what happened to Cheng, they immediately sympathized with him and understood his outrage. They shared both his anger and pain and they looked to Whole Foods to address the matter.
Here's what Whole Foods didn't expect. They didn't expect Cheng and Lew to continue to press their concerns and to go so public with them. They expected the two to quietly walk away and forget about it. After all, isn't that what the stereotype says Asian Americans are supposed to do? But you know what, Whole Foods? Asian Americans aren't your freaking stereotype so open your eyes and figure it out.
Stop treating the Asian American community as a nuisance that doesn't matter. Address the concerns and make things right.  I know I haven't shopped at Whole Foods since the July 4th issue and I don't plan to until I'm satisfied the concerns are met. I would urge you to keep your business away from Whole Foods as well.
Many AsAmNews readers have asked what's happening with this matter? While I can't guarantee that Whole Foods will make any sort of proper response, I can say with certainty the matter is not over. Cheng and Lew aren't ready to go public with what they've been doing to resolve the matter, but they continue to move forward and are working with the Asian American Bar Association of New York.
While no individual story about the Whole Foods incident broke into the top 5 of most viewed stories on this blog, collectively the story would have been ranked number 4.
Stay tuned for more updates when warranted. You are encouraged to leave a comment about the issue below. If you would like to support Cheng and Lew's efforts, please share this post on Facebook, Twitter and other social media.
RELATED STORIES
Whole Foods Investigates Apparently Racist Incident at New York Store
Whole Foods Market Says Ching Chong Incident Not a Community Issue
Whole Foods Opens Dialogue about Racist Incident, But No Public Apology
Whole Foods Spoils Talks on Racial Slur Incident