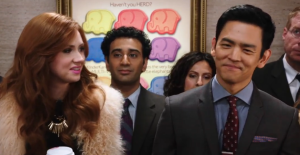 All of us no matter how confident we may appear on the surface suffer from various amounts of insecurity.
The latest episode of Selfie now available on ABC.com and Hulu Plus does a great job highlighting this.
In episode 12, sibling rivalries are played out and male egos clash.
Specifically Henry and Freddie, who have been in an unofficial triangle vying for Eliza's attention if not affection, come to a head.
In addition, we learn more about the origins of Eliza's own insecurities and over the top efforts at attention grabbing. Her sister was always the favored one in the family and when that sister comes to a visit, those feelings emerge.
One of the best things about Selfie besides its witty humor is the raw emotions that surface through each week. This episode is among the best so far and is just another reason why we need to #SaveSelfie.
Just one more original episode remains to be released. ABC took the show off the air due to poor ratings despite a fervent fan base which is determined to save the show.
Fans are urged to tweet @cw_network in an effort to get the CW to pick up the show for a second season. The tweet blast begins at 8 pm Eastern/ 5 Pacific tonight.