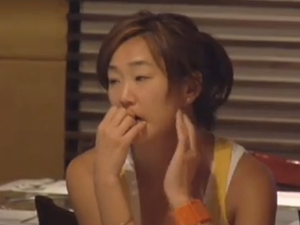 By Sam Louie
Asian girls are the fastest growing segment of international adoptions here in the United States. But beyond the benevolence and generosity underlying many Caucasian adoptions of Asian children, the complexities of race, identity, community, and emotional scars of abandonment are rarely addressed.
But now you have the opportunity to see Asian adoption and its psychological impact in a documentary produced by Barb Lee (herself a Korean adoptee). In this film, Lee grapples with the identity crisis many international adoptees face when thrust into mainstream American White culture.
In one heart-wrenching scene, the Korean American adoptee tries to get her Caucasian father to see the loss she experienced in the family's avoidance of talking to her about her race, adoption, and her ethnic differences growing up. Instead, the father remains defensive and rationalizes those decisions as wanting to help his adopted daughter to feel as "American" as those around her. But the woman shares how this lack of communication led her to feelings of isolation, despair, identity issues, and substance abuse to cope.
The documentary also follows the path of another family who recently adopted a baby girl from China and is learning early on the intricacies of race, adoption, and cultural assimilation.
The film was riveting as I was struck by the candidness of the Asian American adoptee's experience of feeling like an outsider in her adopted family and in the Korean American culture. In one poignant scene, she traces her biological father's lineage to the Civil War only to learn that an organization "Sons and daughters of Union Veterans", which is to preserve the history and legacy of the heroes who fought for the Union is eligible only to biological descendants. The grief and loss of not feeling like she's completely part of her white adopted family is juxtaposed with similar feelings of cultural dissonance when she asks her father (for the first time) to eat at a Korean BBQ Restaurant only to be overwhelmed by not feeling Korean enough.
For anyone who is interested in understanding the hardships of transracial adoptions, this movie will offer a compelling storyline that goes beyond traditional, heart-warming tales of international adoptions by White Americans.
(Sam Louie is a psychotherapist and relationships coach in Seattle & Bellevue. He holds a Masters of Art degree in Clinical Psychology with an emphasis on marriage and family therapy. This article is republished from Psychology Today with permission of the author).