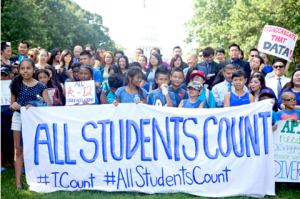 The needs of Southeast Asian students are being ignored and lost in the model minority stereotype, according to the Southeast Asia Resource Action Center (SEARAC).
American Radio Works reports just 65 percent of Southeast Asian American students have a high school diploma compared to 85 percent nationwide. They also have among the highest dropout rate.
Yet, a study by the University of Massachusetts in Boston found the amount of attention from teachers received by Southeast Asian American students was significantly less than the number of times these same teachers looked at other students.
"Because Asian American students fit this mold of superstar model minority, they don't get as much attention and support," said Quyen Dinh, executive director of SEARAC.
Southeast Asian American students are primarily English language learners. Dinh says Vietnamese is the second most commonly used language of English language learners.
"The fact that they are immigrant and refugee students makes them different in terms of the challenges and assets that they bring into school," said Dinh. "The challenges that they face are very similar to other low income immigrant students of color compounded with additional health challenges that their families have brought over from being traumatized refugees of war."
You can hear more about their unique challenges in the interview below with American Radio Works.