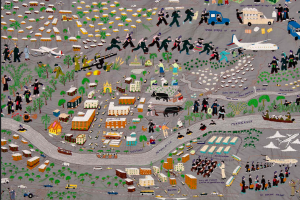 16-year old Chonny Vang of Fresno, California should be held up as an example to young people everywhere(photo of Hmong story cloth from Minnesota Historical Society).
She sat down with her mother to listen to her heart-wrenching story about coming to America. It's an important exercise in not only to moving emotionally closer to a loved one, but in passing down a family's history.
Vang's mother overcame the loss of her husband to a war, the lack of a formal education, being abandoned by her own mother, the built in sexism in her own Hmong culture and raising eight children on a limited income.
Vang's mother Zoua Vang does not speak English. Chonny translated the story for
New American Media.
Zoua Vang recalled the moment her mother left her.
"My mom was a great mother. She cared for my three brothers, my sister and me, and gave us lots of love, but she made the decision to remarry, leaving us with my grandma and uncles. After she left, I would [often] cry myself to sleep. My grandma would always say, "Stop crying! If your mother loved you then your mother would never have left you to live with another man." Sometimes my grandma would hit me because I was crying too much. I missed my mom so much that one day I ran away to stay with her, but the next day my grandma and uncles took me back"
Reading Vang's story made me regret not doing a better job of documenting my own family's history. All my grandparents have passed, as has my father and all his brothers.
If you are interested in conducting an oral history interview, Indiana University has some tips on getting started.
You can read Zoua story in New American Media. It just may inspire you to do your own oral history interview.