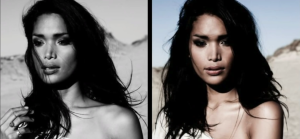 (Today we continue our countdown of the five most viewed stories on AsAmNews in 2014 with a look at number two).
It was the kind of public admission that could have destroyed her career.
Geena Rocero signed with the major modeling agency, Next Model Management, at the age of 21. After 12 years gracing the runway as a bathing suit and fashion model, she had her official coming out in April announcing at a TED talk that she was a transgender woman.
She had gotten her sex change operation with the support of her family in the Philippines when she was 15.
Since her coming out, she has gone on to found a transgender advocacy organization, Gender Proud. Her story has been an inspiration for others.
The story of Geena Rocero was the second most viewed story on AsAmNews in 2014.
RELATED STORIES
Filipino American model comes out as transgender
Filipino American model launches transgender advocacy group
Transgender model Geena Rocero is the new It Girl
#3 Most viewed story of 2014: Asian American reporter asked if she spoke English
#4 Most Viewed Story of 2014: News Anchor David Ono preserves moments in Asian American history

#5 Most Viewed Story of 2014: Filipina American Sheila Lirio Marcelo Breaks Bamboo Ceiling
Honorable Mention: Most Viewed Stories of 2014–Whole Foods Clueless about Asian Americans

(An earlier version of this story used the word transgender as a noun. We apologize for the error).