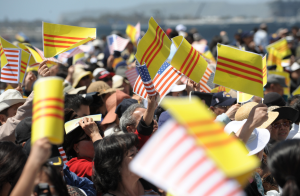 Demonstrators against police brutality replaced a flag flown by Vietnamese American immigrants from the former South Vietnam with the flag of the current communist regime, reports Breitbart (file photo from Port of San Diego)
The incident took place this past weekend in apparently the same protest where an American flag was burned.
The flag from South Vietnam continues to be flown with pride by many from the former country who fled after the fall of Saigon. It is now known as the Vietnamese American Freedom and Heritage Flag.
The Los Angeles Times this past week did an entire story about how the flag remains a symbol 40 years after the communists overthrew the South Vietnamese government.