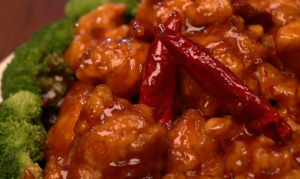 Jennifer 8 Lee's In Search of General Tso opens in theaters and iTunes today.
On its surface, the documentary from Sundance Selects is a tasty look at the origins of a popular Chinese dish.
Yet the film opens with the 1882 Chinese Exclusion Act and as the Village Voice puts it, "approaches the resulting culinary diaspora via a number of paths, racism among them."
Where did this common menu item in Chinese restaurants in the US originate? A trip to China reveals it didn't come from there. But the journey takes us on interesting path through Chinese American history.
Who knew Chinese food could be so mentally rich?
The Search for General Tso is directed by Ian Cheney and produced and commented on by Lee.