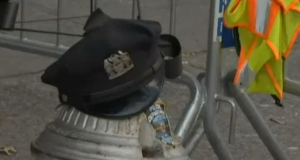 A wake is underway in New York for murdered New York Police Officer Wenjian Liu, reports NBC NY.
The wake is taking place at Aievoli funeral home in Bensonhurst until 9 tonight with the funeral scheduled to begin Sunday at 11 a.m.
Large crowds are expected at the funeral including a huge contingent of police officers from across the country.
Liu along with his partner Rafael Ramos were sitting in their patrol car when Ismaaiyl Brinsley without warning began firing on them. He killed both of them before killing himself.
The city of New York announced yesterday that streets would be named after both officers.
Both a traditional Chinese ceremony and NYPD ceremony are scheduled for tomorrow.
You can read more about Liu's life, as well as questions about whether officers will once again turn their backs on Mayor Bill de Blasio in protest of comments he has made about the Eric Garner case, on NBC NY.