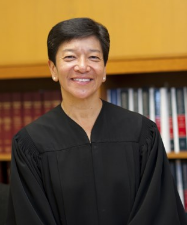 With several supreme court justices now in their late 70's and 80's, the potential that there could be more than one retirement from the court in the next few years is high.
Hayato Watanable in his blog post for The Hill wrote "it's time we had an Asian-Pacific American on the Supreme Court."
Watanable says having a more diverse court could have potentially moved the US to the right side of history in such cases as the incarceration of Japanese Americans and the Chinese Exclusion Act. At the very least, it would make the court look more like America, an often stated goal of President Obama for government in general.
Watanable names several possible Asian Americans who could fill the position. U.S. District Court Judge Edmond Chang or Washington Supreme Court Justice Mary Yu (pictured) are two possibilities. New York attorney Preet Bahara is also mentioned. Another possibility is California Attorney General Kamala Harris who has been mentioned in other articles.
You can read more about potential retirements and why Asian American candidates need to be strongly considered in The Hill.