Story & Photos by Shirley N Lew
Mourners arrived early this somber weekend in Brooklyn for the wake and funeral services for Detective Wenjian "Joe" Liu.  Thousands of police officers from around the country formed a sea of blue in a mile long stretch in Brooklyn to pay their respects. Liu's wake on Saturday began at 1pm and his funeral was held Sunday at 11am.
Liu and his partner Detective Rafael Ramos were both shot while sitting in their patrol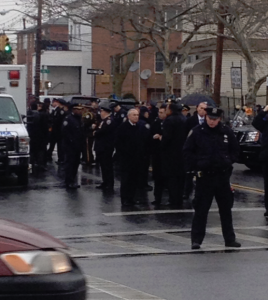 car on December 20 by a deranged man. Police Commissioner, William Bratton promoted both men to detective first-grade posthumously. Ramos was also posthumously named department chaplain.
Among the mourners were Asian community leaders, friends and family. JetBlue flew Liu's relatives from China and over 1,100 police officers for the weekend services. Via Twitter, the San Mateo Police Department thanked JetBlue for their free flights. Last weekend, the airline flew in about 900 officers for Ramos' funeral.
James Ng is president of the Asian Jade Society, an organization that represents roughly 4,000 Asian American NYPD officers. He served as a liaison to the Liu family and assisted in getting their relatives flown in from China.
Throughout the weekend, on lookers stood across the street at the local TD Bank, while others took photos. Directly across the street from the Aievoli Funeral Home, was of an out of business bagel shop that served as the corral for the news media. Its bordered up windows of the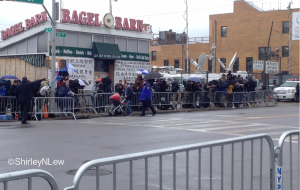 shop were covered with signs written in Chinese honoring the Liu family. The signs were from the Taishan Du Hu Association of America, the New England Long Zhang Association and from surrounding local businesses.
Earlier in the week, Mr .Zhao Ru, a 73-year-old calligrapher of Bensonhurst donated memorial scrolls for the Liu family to be hung in the funeral home.
On Saturday, 53-year-old Calvin Hunt of Manhattan and his two children traveled
to Brooklyn to show their support of the NYPD. They held pictures of the slain detectives and signs that read, "Blue Lives Matter" and "God Bless NYPD."
"It's no more black lives matter, it's blue lives matter. These officers' lives mean everything in this city. These guys were ambushed. So we got to stick behind the NYPD. So anyone protesting against the police, just stop it, just stop that nonsense. Stop threatening the police," Hunt said vehemently.
New York Governor Andrew Cuomo attended the wake on Saturday, but did not attend Sunday's funeral as he continues to mourn the death of his father Mario Cuomo who died on January 1. Bratton and NYC Mayor Bill de Blasio attended both services.
On Saturday evening, a candlelight vigil was held in Chinatown for both detectives at Kimlau Square, a memorial site that honors Chinese American veterans. The location seemed most fitting.
View the Chinatown candlelight vigil.
Virginia Buchan, a long time resident of the Bowery section of the Lower East Side attended the vigil.
"We support Chinatown and this is why we are here," said Buchan.
I asked Vice-Chair of the Bowery Alliance of Neighbors, Michele Campo how she felt about the recent protests against police brutality in Lower Manhattan.
"I think police brutality is something that needs to addressed. What happened to these officers is of a different caliber and we are here because we feel for their families and the community. I have no cause to doubt police protection but the protests are valid," said Campo.
[photoshow]
During Sunday's funeral, Liu's father sobbed as he spoke in Cantonese about his only child and how his son would call home after his shifts to let him know he was safe. The detective's widow of barely three months, Pei Xia Chen said her husband had pride in being an NYPD officer and described him as a loving and dedicated man to his family and community.
"He was an amazing man. He left us early. His spirit will continue to look after us. He will keep an eye to look over us. He is my hero. Thank you to my family and my extended family of blue, " his widow said to the mourners.
Every shared story about Liu portrayed him as a giving and compassionate man. One officer's story spoke of how Liu spent hours talking to a lonely man and how he helped a veteran and tucked him into bed.
Liu's young cousin spoke during the funeral about how "Joe," gave up his first treasured purchase when he came to America, a sticker of the Statue of Liberty to stop him from crying.
On Friday, Bratton asked the NYPD to keep politics out of the weekend's services by not turning their backs on the city's mayor as they did during Ramos' funeral. Some saluted the mayor, yet some defiantly turned their backs anyway when De Blasio gave his eulogy on Sunday. Those officers may have heard his eulogy, but did not watch him on the jumbo screen outside of the funeral home which streamed the service from inside.
What fueled their anger against the mayor was when he expressed dissatisfaction about the not guilty verdict in the grand jury rulings of a white officer who put Eric Garner, an African American man in a choke hold that apparently killed him.
The outpouring of support for the detectives has been more than generous. The New York Daily News created a fund after the detectives' death with an initial donation of $10,000 to each of the detective's families. The local newspaper then asked the public to make a donation either online or by check. It has since raised over $280,000. On Friday, the Tunnel 2 Towers Foundation had already raised over $700,000 to help pay off the mortgages for the Liu and Ramos families.
The De Blasio and Council Speaker Melissa Mark-Viverito announced last month that they plan to have streets renamed near the detective's homes in their honor.
Liu was laid to rest in the Cypress Hill Cemetery in Queens in a private ceremony.
(this story was updated to correct the name of the cemetary)