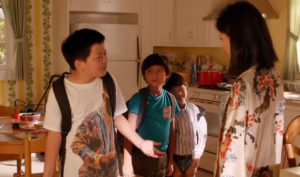 The critics have spoken. Fresh Off the Boat is one of the most anticipated new shows of 2015.
The new comedy based on the memoirs of celebrity chef Eddie Huang has made numerous "best of" lists.
Time, TV.com, Buzz Feed, TV Line, and the Atlantic all consider Fresh Off the Boat buzz worthy.
The Atlantic called the show "among the best comedy pilots I've seen all year, dealing with the Huang family's difficulties assimilating with American culture as they move to Orlando to open a steak restaurant.."
TV Line wrote Fresh Off the Boat attacks "cultural stereotypes head-on with sharp wit."
TV.com says "we think the show is poised to be one of the better new comedies of the year."
Buzz Feed ranks Fresh Off the Boat number 12 in a list of 127 new TV shows and movie.
The show previews twice on Wednesday, February 4 on ABC at 8:30 and 9:30 pm before moving to its regular Tuesday 8 pm time slot.